Mystic Marriott Hotel & Spa
625 N Rd, Groton CT 06340
Dear Symposium Speakers, Attendees, Vendors and Sponsors,
We extend our sincerest thanks to you for making this year's Symposium possible. We appreciate your dedication to the Healthcare Technology Management community and your investment in its advancement.
We have worked tirelessly over the past year to coordinate knowledgeable speakers to present on topics chosen by you, our passionate members. We hope that the presentations engage you even further and renew your enthusiasm for the healthcare technology field.
These presentations will provide you with the information necessary to make real changes that affect your personal career goals, your departments, and your healthcare organizations.
We also extend our gratitude to the members of the planning committee who spent many hours on conference calls, coordinating speakers, designing artwork, emailing vendors, and providing much needed support.
Thank you and enjoy the Symposium!
2022 Northeastern Healthcare Technology Symposium Committee
Ashley O'Mara, President
Erin Koser, Vice President
Samantha Moriarty, Treasurer
Elena Buckley, Secretary
Vinnie DeFrancesco
Dillon Florence
Samantha Herold
Scot Mackeil
Paul Monahan
Frank Painter
Rebekah Paiser
Welcome to the Northeastern Healthcare Technology Symposium. Please make your way to the NESCE Registration Booth located in the Lobby outside the North Entrance to receive your Badge and Grab-Bag
Introducing our Keynote Speakers
Donna Dyer
Between 2017 and 2021, Donna successfully led GE Healthcare's HTM organization through a breakthrough transformation, having started her career as an intern biomedical technician for the company. Donna is an inclusive, people-centric leader who achieves meaningful results by improving diversity, cooperation, communication, operational rigor, and team performance. She is currently the General Manager of Partnership Solution at GE Healthcare, and lives in Pembroke, NH.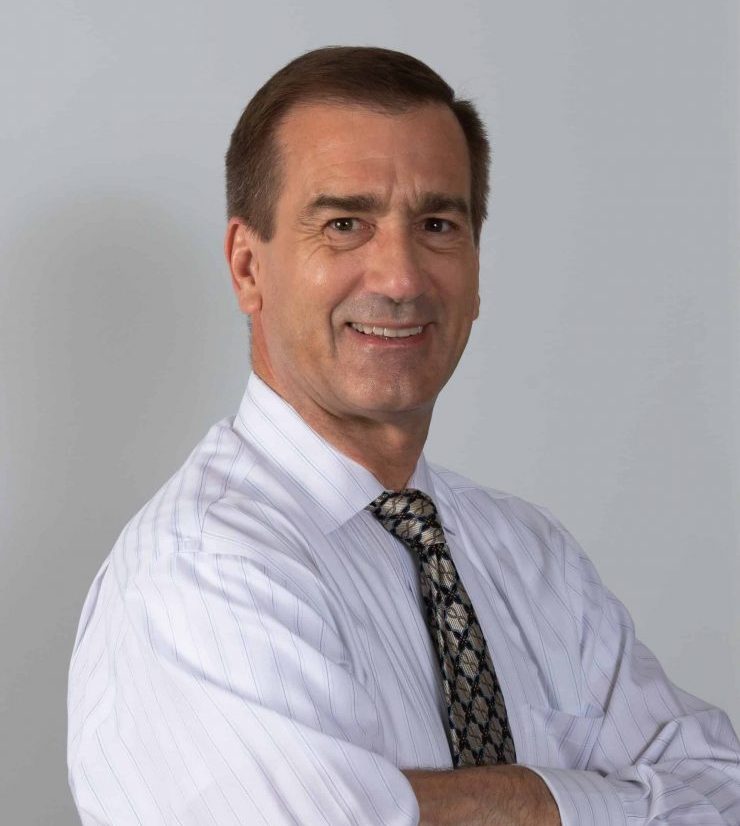 Larry Hertzler
With over 40 years of clinical engineering operations experience, it comes as no surprise that The Intermed Group would select Larry as the company's new Chief Operating Officer as of 2021. With a strong passion for healthcare he has used his experience with compliance, business intelligence, remediation, consulting, coaching, and mentoring, to improve company operations through the years. Larry is an AAMI Fellow, ACCE Charter Member, and has previously served as chair of the ACI. He is currently based out of Westfield, IN.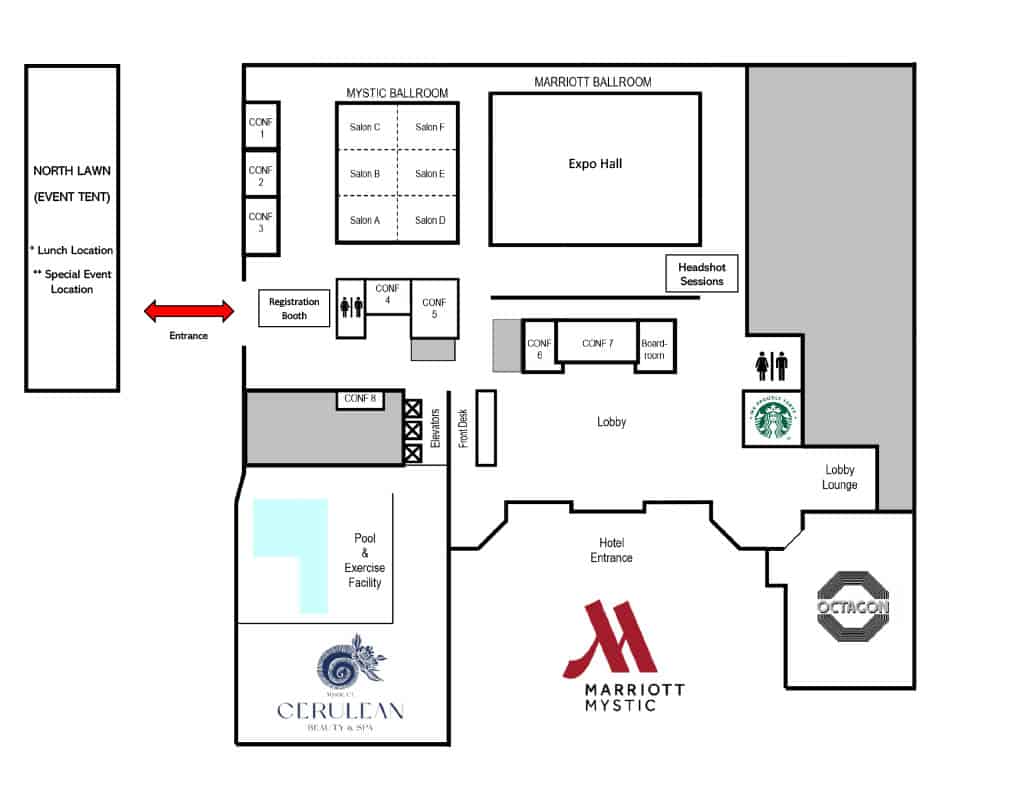 Exhibit Hall Hours
Tuesday, October 18th
9:30 AM - 5:30 PM
---
Wednesday, October 19th
9:30 AM - 2:45 PM
---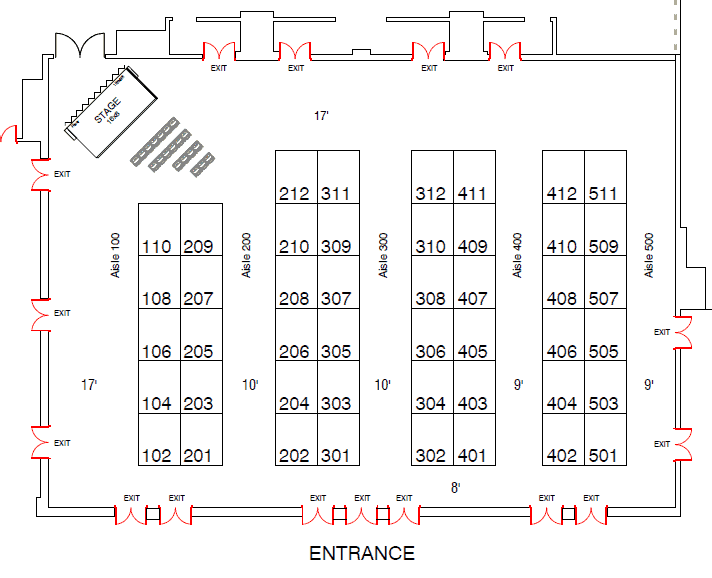 Expo Hall Bingo
All Attendees will receive a Bingo Card in their Grab-Bag. Visit Vendor Booths and collect signatures to complete two BINGO rows for entry into our Door Prize Raffle Contest!
Bingo cards must be submitted to the NESCE Registration Booth before 2 o'clock on Wednesday, October 19th for a chance to win!
SPOTLIGHT THEATER SCHEDULE
Tuesday, October 18th & Wednesday, October 19th
PLEASE JOIN US AT THESE NETWORKING EVENTS
Tuesday, October 18, 2022
(No Additional Registration Required)
4:30 - 5:30
Expo Hall (Marriott Ballroom)
WINE AND CHEESE NETWORKING NIGHT
Sponsored by Pycube
Join us in the Expo Hall after the educational sessions for some authentic conversations with your favorite vendors. While you're here, enjoy some complimentary beverage and hors d'oeuvres!
(Registration Required | $25 for Admission)
6:00 - 9:30
Mystic Marriott North Lawn
TACOS AND TRIVIA UNDER THE TENT
Sponsored by Medical Equipment Dynamics
Join us for a Taco-filled Trivia Tuesday hosted by Best Trivia EverI Enjoy a Southwestern inspired dinner buffet under the event tent with a complimentary drink on us! Bring your Trivia A-game to the table as teams compete for the top three grand prizes!
TICKETS AT DOOR
Need an Updated Professional Portrait?
Visit our complimentary Photography Booth in the Lobby outside the Expo Hall
Available Tuesday and Wednesday
9:30 AM - 11:00 AM
Need a Meeting Place?
Conference Room 1 is available for networking and meeting opportunities.
Available Tuesday 
8:30 AM - 5:30 PM
LOOKING FOR CEU CERTIFICATION?
Make sure to stop by the NESCE Registration Booth at the end of each day to receive a physical certificate from AAMI's Credentials Institute. By attending the Symposium, you can receive up to 7 CEUS's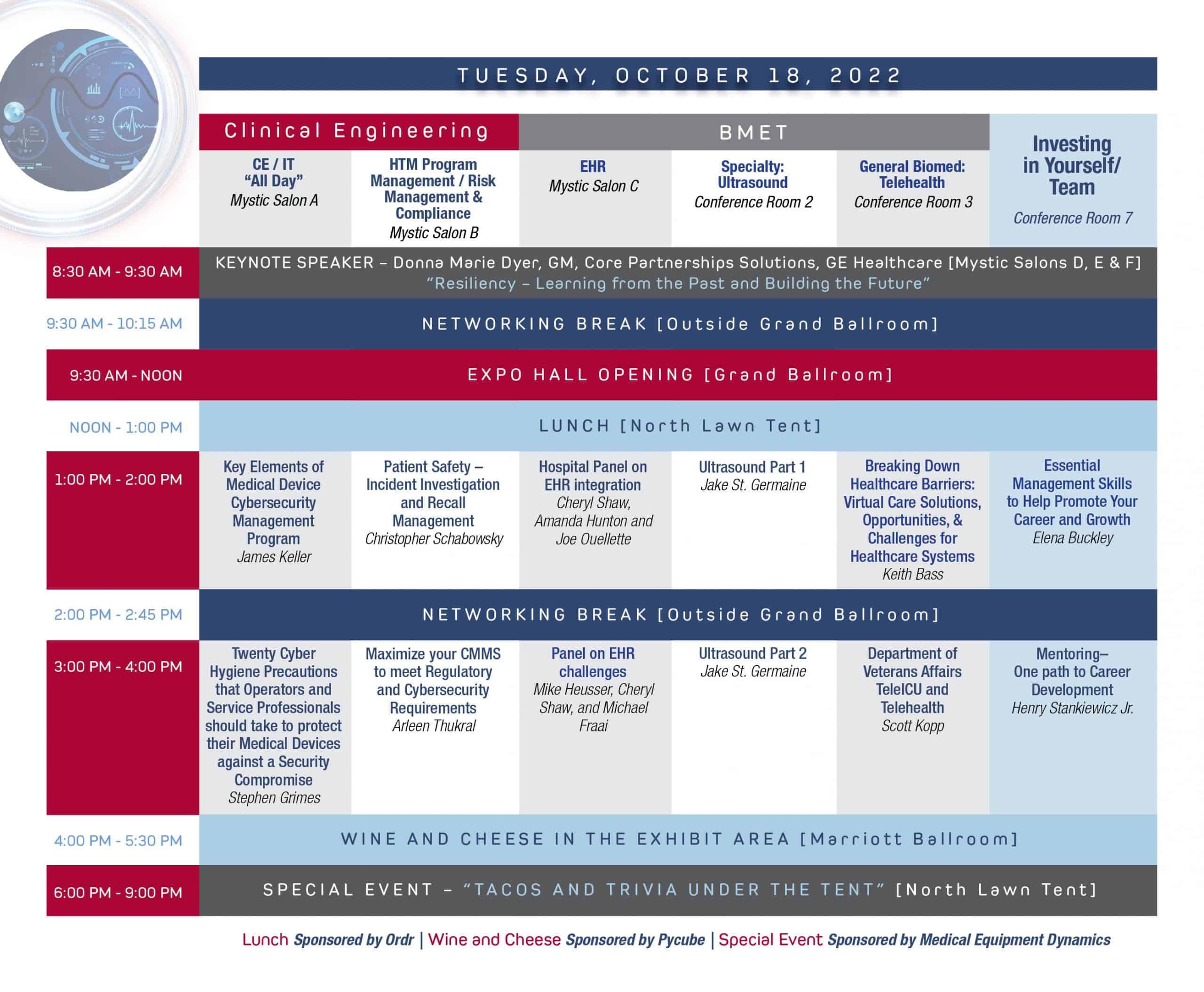 PROGRAM SCHEDULE TUESDAY OCTOBER 18
ALL DAY TRACKS
Ultrasound PM and Basic Troubleshooting (Part I and II), Jake St. Germaine, Ultrasound Service Specialist, Encore Technical Services, Inc., Preventative Maintenance procedures for ultrasound and basic troubleshooting tips for some common failures in ultrasound.
8:30 - 9:30 AM
Opening Keynote Address: Donna Marie Dyer, GM, Core Partnerships Solutions, GE Healthcare
"Resiliency – Learning from the Past and Building the Future"
1:00 - 2:00 PM
Key Elements of Medical Device Cybersecurity Management Program, James Keller, VP of Business Development - MedSec, The rapid expansion of medical devices connected to hospital networks and to networks outside of the hospital setting, such as for home care, along with the dramatic increase in security threats has raised the task of managing medical device cybersecurity to a critical level. It has or should have the attention among the highest levels in healthcare organizations. Clinical engineering should be a key player, if not the leader of hospital medical cybersecurity programs. Whether or not clinical engineering is taking the lead, it is important for clinical engineering to have a full understanding of the key elements of a healthcare organization's medical device cybersecurity management program. This presentation will highlight these key elements. It will cover rationale to support the need for a program, governance and oversight, important roles and responsibilities, the scope of the program, assessment and management/mitigation of risk, key training/skill set elements, available tools and resources to support a cybersecurity management program, and establishment of cybersecurity-related policies and procedures.
Patient Safety- Incident Investigation and Recall Management, Christopher Schabowsky, Senior Investigator, ECRI. Performing investigations and managing recalls effectively and efficiently empower healthcare systems to determine both why an adverse event occurred and how to avoid recurrence. However, investigations can be challenging, time consuming and often lead to more questions than answers. Based on 50 years of accident investigation experience, this presentation highlights ECRI's standardized Incident Management and Investigation Plan to provide you with the tools to optimize your accident investigation program.
EHR Integration Panel, Cheryl Shaw Biomedical Engineer, VISN20 Northwest Network, Amanda Hunton, Clinical Engineer, Mass General and Joseph Ouellette, Senior Manager of Clinical Engineering, Yale New Haven Health.  This panel will discuss EHR integration experiences across their Healthcare organizations.
Breaking Down Healthcare Barriers: Virtual Care Solutions, Opportunities, & Challenges for Healthcare Systems, Keith Bass, MBA, MHA, MS, Senior Vice President, Business and Clinical Development, GlobalMed.  Telemedicine offers the potential to reach individuals and communities where healthcare access has historically been minimal or nonexistent. Implementing an enterprise-level telemedicine program in any hospital environment can improve patient outcomes, reduced readmission rates, patient satisfaction, and improved reimbursement models. This presentation will provide an overview of telemedicine solutions (hardware, software, and peripherals) used in the healthcare delivery process; a discussion on the challenges of implementing a telehealth program; and emerging opportunities and future trends.
Essential Management Skills to Help Promote Your Career and Growth, Elena Buckley CCE CHTM, Associate, Booz Allen Hamilton. Through the perspectives of current and former VA leaders (Elena Buckley & Barrett Franklin) this presentation will focus on the tools and tricks to tailor your work for the mutual benefit of you and your boss and how to promote yourself and grow your career.  This session will help current managers and future managers learn what C-Suite leadership looks for in managers.
3:00 - 4:00 PM
Twenty Cyber Hygiene Precautions that Operators and Service Professionals should take to protect their Medical Devices against a Security Compromise, Stephen L. Grimes, FACCE FHIMSS FAIMBE AAMIF, Principal Consultant, Strategic Healthcare Technology Associates, LLC. Front line medical device operators and technical support staff are often the first line of defense against cybersecurity compromises. This session will prepare these professionals to put up a robust defense with a comprehensive list of 20 interdependent cybersecurity practices.  These practices should be understood and followed by all front-line personnel involved in either the operation or support of medical devices and systems. If adhered to, these cyber hygiene practices go a long way towards preventing security-related compromises.
Maximize your CMMS to meet Regulatory and Cybersecurity Requirements, Arleen Thukral M.S. CCE, CHTM, V2 Healthcare Technology Manager, New York/New Jersey VA Health Care Network. High Reliability Organizations 'learn, inquire and improve' while supporting a culture of safety. This session will discuss Nuvolo CMMS in VISN 2 VA New York/New Jersey Healthcare Network's automated workflows to support a culture of safety. Use cases will be shared of preventative maintenance workflows that allow constant communication between technician and stakeholders when medical devices are in use and closed as Deferred/Could not locate. Another workflow includes a new incoming inspection process that includes a verification step to ensure proper naming and attributes of inventory and a request portal that includes incoming equipment support for non-hospital owned equipment. Quality assurance and checklist workflows will also be discussed.
EHR Challenges Panel, Michael Heusser, Manager of Clinical Engineering, Middlesex Health, Cheryl Shaw Biomedical Engineer, VISN20 Northwest Network and Michael Fraai, Executive Director Biomedical Engineering and Device Integration, Brigham Health. This panel will discuss EHR challenges across their healthcare organizations and discuss lessons learned from their EHR migrations and implementation.
TeleICU and TeleHealth in the Department of Veterans Affairs, Scott Kopp MS PMP, Biomedical Engineer, HTM VA Central Office. This session will discuss the deployment and expansion of TeleICU and other TeleHealth technologies in the Department of Veterans Affairs.
Mentoring- One Path to Career Advancement, Hank Stankiewicz Jr. CCE, Consultant, Sigma Healthcare Consulting.  The speaker will discuss formal mentoring concepts and share its importance to career advancement. Other career advancement paths such as certification and professional society involvement will also be presented.
PROGRAM SCHEDULE WEDNESDAY OCTOBER 19
ALL DAY TRACKS
Imaging Workshop- R/F systems, Mike Petelin, Instructor, RSTI. Introduction to Servicing R/F systems. This seminar is designed for biomedical or clinical engineers and/or managers who wish to gain an understanding of the fundamentals of servicing typical R/F systems. This course will cover the technical aspects of radiation safety, radiation production, imaging and equipment specifications. This is also an excellent refresher course for diagnostic imaging service professionals.
8:30 - 9:30 AM
Medical Device Cybersecurity, a Manufacturer's Journey, Andrew Sargent, Director of Product Cybersecurity & Privacy, Werfen. How do medical device manufacturers deal with the changing cybersecurity environment? This session will review one manufacturer's journey and perspective of starting and building a program "from the ground up" and provide the cybersecurity and privacy context from a medical device manufacturer perspective. We will discuss the cultural change that has to take place, how cybersecurity fits into the quality management system, and how a program was developed that enabled a risk-based approach to security by design and by default.
Codes and Standards, Jordan Anderson, Acting VISN 1 Chief Clinical Engineer, VA New England Healthcare System. This presentation will review and provide updates on applicable codes and standards for the HTM community.
Infusion Pump Interoperability, Joseph Ouellette, Senior Manager of Clinical Engineering, Yale New Haven Health. Yale New Haven Health went live with Infusion Pump interoperability at the end of 2022. This presentation will review the process followed to make this project a success and the lessons learned that would have made it even better.
Fundamentals of Critical Mechanical Ventilation: Part I, Stephen Moore, Registered Respiratory Therapist and Sr Sales Executive, Draeger Inc. Carmela Bova, Sr Service Specialist Draeger Inc and Justin Fafel, Sr Service Specialist, Draeger Inc.  In this one-hour session, attendees will be given a ventilation overview of basic clinical theory of operation.  In addition, they will provide a ventilator anatomy overview of the various components that make up a ventilator system.
Remote Healthcare: Telehealth and Clinical Engineering, Chris Palmieri MEng, Technology Manager- Northeast Region, SpaceLabs Healthcare, Christopher Senter, Regional Service Manager- Northeast Region, SpaceLabs Healthcare and Sarah Bernardes, Field Service Engineer III- New England, SpaceLabs Healthcare. This presentation will look at recent developments in Remote healthcare and define the terms and concepts relevant to Clinical Engineers regarding this expanding space. Our goal will be to help you better prepare your hospitals to build their roadmaps for Remote Healthcare and Telehealth to remain competitive in the future.
Building your brand on LinkedIn & your Resume, Lauren Celano, Founder and CEO , Propel Careers. This presentation will provide advice for how to build and develop a professional on-line brand using LinkedIn and also how to also translate these details to you resume so that your resume is aligned to the type of career path you are looking for. We will highlight ways to leverage LinkedIn to build your brand with a focus on different ways you can ensure that your leadership, management, mentorship, collaboration, engagement and other skills shine through in your LinkedIn profile as well as your resume.
11:00 AM - 12:00 PM
New Security in the Wake of New Innovation, Chris Logan, Chief Security Officer, Censinet. During this time of increased innovation, many new (and old) security risks have been created. This session will take a deeper dive into this risk landscape and providence guidance on how we can tackle and mitigate these risks in new and innovative ways.
AAMI Updates, Danielle McGeary, VP of HTM, AAMI. Speaker will discuss the latest updates from AAMI.
Emergent and Long-Term Solutions to Labor Challenges, Brandon Anaya, Sr. Director - Clinical Engineering Services, Agiliti Health Inc. This presentation will discuss both emergent and long-term solutions to labor challenges in HTM.
Fundamentals of Critical Mechanical Ventilation: Part II, Stephen Moore, Registered Respiratory Therapist and Sr. Sales Executive, Draeger Inc. Carmela Bova, Sr. Service Specialist Draeger Inc and Justin Fafel, Sr. Service Specialist, Draeger Inc. Attendees will be given a technical overview of the Ventilator and review typical preventative maintenance instruction. The Draeger team will review troubleshooting related to Clinical vs. Technical issues.
Recruiting and Retention Best Practices, Michael Heusser, Manager of Clinical Engineering, Middlesex Health and Erica Cuthbertson, SHRMSCP, Recruiter, Agiliti Health. The panel will discuss recruiting and retention best practices from their unique perspective as hiring manager and company recruiter.
1:00 - 2:00 PM
Updates on Regulations and Resources, Axel Wirth, CPHIMS, CISSP, HCISPP, AAMIF, FHIMSS, Chief Security Strategist, MedCrypt.  Lawmakers, regulators, and standards organizations are recognizing the increasing cybersecurity risks to our operational technology infrastructure and new laws, regulations, and standards have been published or are under development. This session will provide an overview of the most important ones and will discuss their relevance to us in the medical device industry. In parallel, new educational resources have become available and we will review how we can utilize them to sharpen our sword and improve the security posture of the medical device ecosystem.
Right to Repair Updates, Kevin O'Reilly, Director of Right to Repair Campaign, PIRG. The broader Right to Repair movement made huge strides by passing bills in New York and Colorado this year. But a breakthrough for medical equipment is yet to happen. Kevin will discuss the victories, what we can learn from them and how we can translate the momentum into progress for Medical Right to Repair.
Hot Topics in Clinical Enginering/Healthcare Technology Management, Kevin Kreitzman, MS CCE, Director-Biomedical Engineering, Brigham and Women's Hospital, Samantha Herold, MS, MHA, CCE, Sr. Manager - Clinical Engineering, Yale New Haven Health, Carol Davis Smith, MS, CCE, FACCE, AAMIF, Program Director - UCONN BME Clinical Engineering Internship program and Shyue-Ling Chen MS CCE, Director of Medical Engineering, Lifespan. The panel will provide their take and guidance to the HTM community on several CE/HTM hot topics in our industry. The panel discussion will include topics such as:  Employee Recruitment and Retention, using data to support HTM needs, ways to engage clinical staff during times of pandemic/staffing shortages and more! There will be time at the end for the panel members to answer questions from the audience.
Monitoring/ Ventilators, Andrew Showman, Ventilation Program Specialist, and Victor Boyd, Deputy Chief Cybersecurity Officer, Nihon Kohden America.  Andrew will be reviewing Nihon Kohden patient monitoring and ventilator technologies. Victor will review the challenges we face with cyber security and how it pertains to network security for medical devices.
TeleICU at Yale, Ryan Schafer MHA, Clinical Systems Engineer, Yale New Haven Health and Robin Waddell, Advanced Practice RN, Yale New Haven Health.  The YNHHS Insight TeleICU is a valuable inpatient telehealth program that allows a team of physicians and nurses specializing in intensive care to support 211 unique bedded locations throughout Yale New Haven Health System. The clinical team leverages a suite of integrated medical equipment, audio visual and IT solutions to support interventional care to clinical units with limited overnight staffing. The recent pandemic not only put a spotlight on the benefits of this program but also on the needs for the standardization of clinical equipment and available tool sets so that they can be optimized to support effective care.
3:00 - 4:00 PM
Closing Keynote Address: Larry Hertzler,,COO, The InterMed Group
"Investing in your Personal Clinical Engineering Journey"
We would like to Thank our 2022 NESCE HTM Symposium Sponsors 
This event could not have happened without your support! Thank you!